E-Waste Recycling and Responsible Disposal
In today's digital age, electronic devices are an integral part of our lives. From smartphones to laptops, televisions, and kitchen appliances, we rely on these gadgets to stay connected, informed, and entertained. However, with constant technological advancements, these devices quickly become obsolete, leading to a growing problem—electronic waste, or e-waste.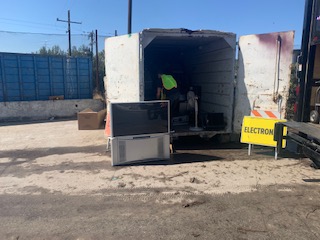 Electronic Waste Never Ends up in the Landfill
There are a ton of benefits of using San Luis Movers and Junk Removal when it comes to San Luis Electronic Recycling. It's important to point out that your local trash hauler won't pick up electronics. For good reason, electronics won't break break down in the landfill.  It's important to recycle the metal to keep your electronics out of the earth.
Why Recycle?
Recycling your old electronics such as TV, Computer, Monitors or old office equipment is a wise choice. If those items get thrown in the trash they will take up valuable space in the landfill and sit for decades without breaking down. Besides, they are a threat to local water supply and soil.
Electronics and appliances such as cell phones, TVs, microwaves contain precious metals such as gold, silver, aluminum, copper.  These precious metals can be removed and repurposed.
San Luis Junk Removal
San Luis Junk Removal and electronic recycling is a wise choice for the environment.  Plus, we will make the process easy for you! We work extremely hard to follow all local guidelines for responsible disposal.
Affordable Junk Hauling
We can do both commercial or residential jobs at San Luis Junk Removal or San Luis Electronic Recycling. We will come to your home or office to provide you an upfront cost.  All of our pricing is available on our website.  We will haul your junk no matter where it's located. See our Full Price List Here.
Same and next day appointments available!
How Our Junk Removal Service Works
Give us a call or click on any "Book Now" button to schedule your junk removal appointment. 
Simply tell us what you need hauled away and let us do the heavy lifting! 
We'll Even Sweep Up Afterwards!
After we finish the job.  We will walk through the property together to make sure we got everything.