Junk Removal Starting at $85
We believe in giving you the information up front. That's why we publish our Junk Removal Price List.  If you have a pile of junk this pricing guide will help you understand how we charge.  Please keep in mind every job is different and we want to give you the best price possible. Feel free to reach out and we can discuss your project in more detail.  Most jobs fill less than a 1/4 of a truck and cost less than $250. 
Full Service Removal
truckload price list
We charge based on how much volume your junk takes up in our truck.  This price list gives you an example of how we charge.  We stack your stuff from floor to ceiling, front to back. 
This service includes inside pickup or backyard pickup.  We will pick up the junk from wherever it's located.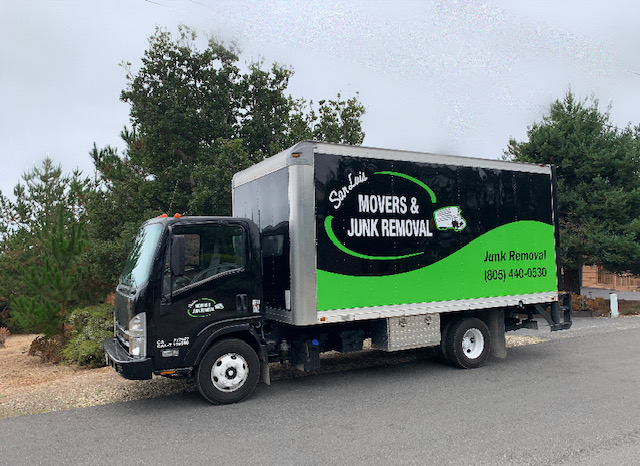 How does curbsite pickup work?
We want our curbside pickup to be easy for our customers.   Unlike Full Service Junk Removal you don't have to be onsite.  However, you'll need to pay for the service ahead of time if you won't be home.  
Book and Pay for the service online. 
Tell us the day you need the items removed. 
Leave the items on your driveway.  Let us take care of the rest!
Curbside pickup is for 1 item only.   The dump charges an additional fee for all appliances, mattresses, sofas and other miscellaneous bulk items. Those fees are included within the the curbside rate. This is also the reason why we can only accept one item for the cost listed to the left.  
The item must be in the front yard.  Items which are in the home or behind a gate are considered Full Service Removal.  
If you don't see the item on our Curbside pricelist give us a call and we will be happy to guide you through the process. 
Larger Trucks Make us More Affordable
Most junk removal companies charge based on volume.  Our truck is 2 to 3 times larger than the other guys.  We can haul more with fewer trips. 
It's Important to be Upfront and Transparent When it Comes to Pricing
We are one of the few companies on the central coast to publish our price list.  We want our customers to see our price list before they book with us. No two jobs are identical.  It's important for us to show you the guide we use to determine the price.  Pricing is something we can discuss and workout together.  You might not know how to determine the amount of space your junk will take up in the truck. It's nice to know the minimum and maximum charge.  
How does San Luis Movers and Junk Removal determine the price? 
San Luis Movers and Junk Removal determines their pricing based on volume or the amount of space your items take up in our truck or trailer. We offer discounts for single items which are placed on the curb or in the driveway.  This discount applies when we can coordinate your job with other jobs in the area. 
Dump Fees
Our prices are all inclusive. If your curious about the cost at the landfill here you can find a link to their price list page.