Commercial delivery services
San Luis Movers and Junk Removal offers delivery services.  At the moment we only offer Commercial Delivery and Junk Removal Services. We no longer offer residential moving services.  
Finding a careful and reliable delivery company can be stressful.  We want your moving experience to be pleasant.  If you choose to hire San Luis Movers and Junk Removal, we promise to be clear about delivery times.  We promise good communication.  Above all, we want to safely move your piece of furniture as carefully as possible. 
We are fully licensed and insured.  Our license can be checked on the State of California Bureau of Household Goods and Services Webpage.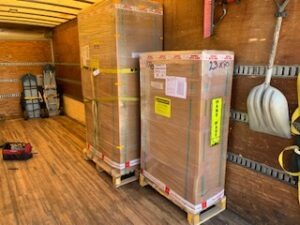 Various companies work with San Luis Movers and Junk Removal to provide delivery of crated furniture. 
Kitchen Cabinet & Flooring Delivery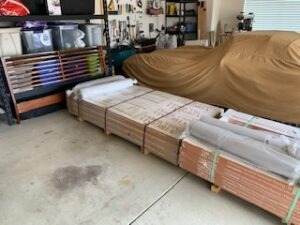 We provide liftgate deliveries of heavy loads such as pallets of flooring, tile and kitchen cabinetry. 
Consignment Store Delivery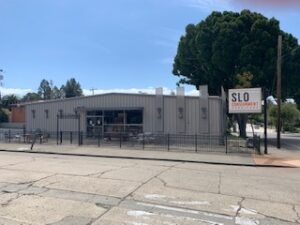 Consignment Store Delivery goes hand in hand with estate cleanouts and junk removal.  We provide delivery to consignment stores. 
What is White Glove Delivery?
White Glove Delivery is a service requested by a furniture maker or retail store.  When we perform White Glove Delivery, we arrange to pick up the article at the retail establishment or at another carriers loading dock.  This is often referred to as final mile service.  From there we dismantle the crate and remove the contents.  We inspect for damage and photograph anything that is unusual.  Some assembly maybe required.  We assemble the piece inside the truck or at the customer's home.   Upon request, we remove all trash and debris associate with the delivery and place the item in the room of choice.
Kitchen Cabinet & Flooring Delivery
Our trucks are equipped with liftgates to handle pallets. Flooring companies as well as Kitchen Cabinet Manufacturers hire us to deliver their merchandise.  Items are placed in the garage or inside the home depending on the delivery choices made by our Vendors.  We deliver all types of flooring on a regular basis.  This includes, tile, vinyl plank, laminate, hardwood and engineered woods. This type of material is placed on a pallet, not weighing more than 2500 lbs per pallet.
Consignment Store Delivery 
This Service ties in nicely with our Junk Removal Service.  Lets say you have a pile of junk that needs to go the dump.  At the same time you have a mid century modern dresser that might be desirable to a local consignment shop.  You can hire us to remove the unwanted pile of junk and also hire us to move your dresser to the consignment shop..  You'll make some money on the dresser while keeping it from going into the landfill.