San Luis Movers & Junk Removal is happy to announce the launch of their new and improved website! Serving San Luis Obispo and the surrounding areas, San Luis Movers & Junk Removal specializes in the removal of unnecessary items such as household and office junk, unwanted appliances, old electronics, unsightly yard waste, and construction debris. Celebrating 10 years in the business, San Luis Movers & Junk Removal are experts at aiding their clients in moving and cleaning up the mess. Now, they are pleased to be providing their customers with a new and improved website designed to give the best experience while moving and removing their junk.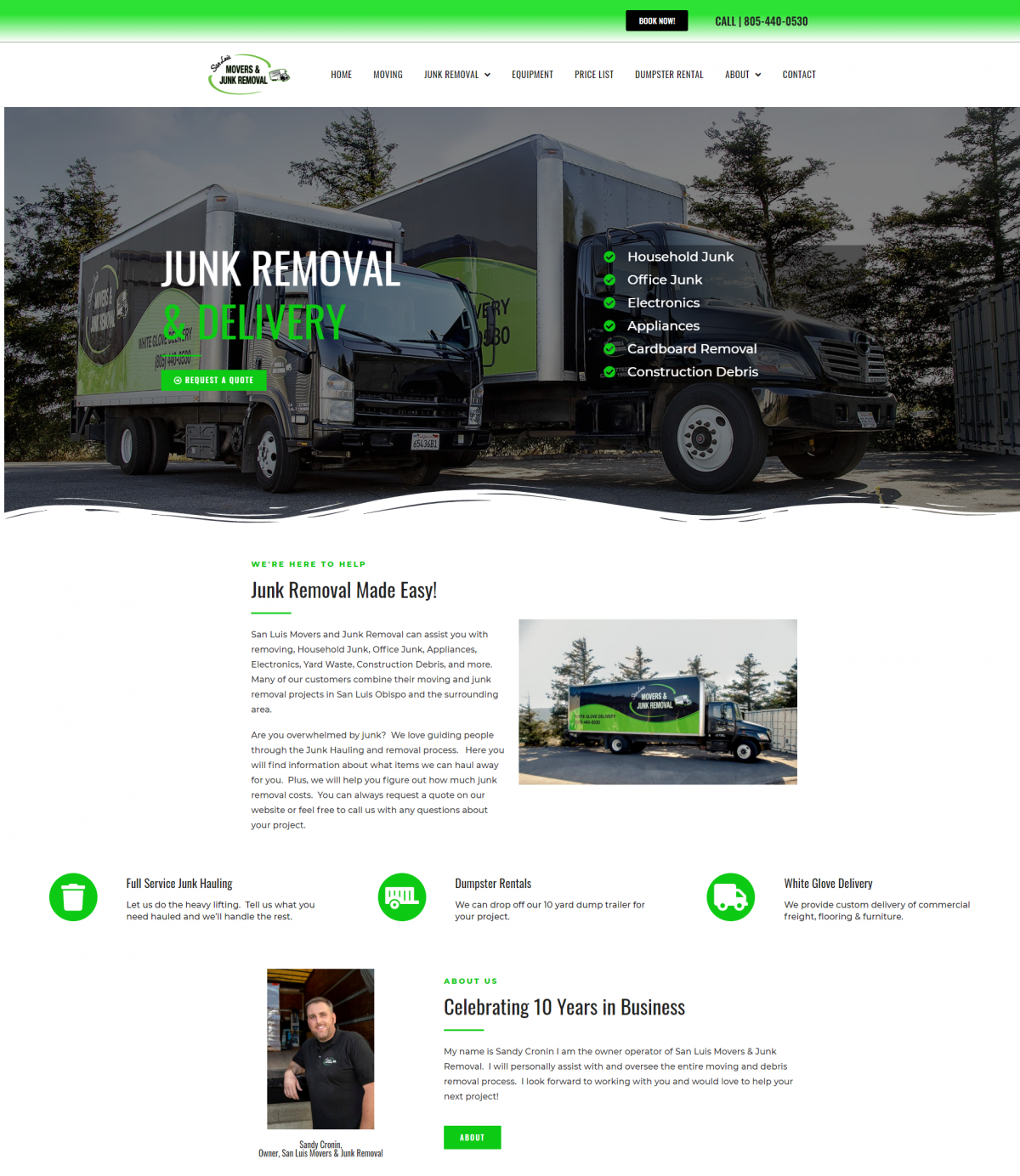 "Are you overwhelmed by junk? We love guiding people through the Junk Hauling and removal process. Here you will find information about what items we can haul away for you." states the company's new website, "Plus, we will help you figure out how much junk removal costs. You can always request a quote on our website or feel free to call us with any questions about your project."
San Luis Movers & Junk Removal completes their jobs with efficiency and at a better price for their customers. Boasting larger trucks and bigger loads, the moving and junk experts are able to move more with fewer trips, due to the fact that their trucks are larger in comparison to their competitors. With trucks that allow two to three times more than the average truck in the industry, San Luis Movers & Junk Removal offers lower rates, same day service, and friendly staff.
The company's sparkling new website has everything a customer could want. With sections for moving and junk removal, the company gives each client all the information that they need to know to make the best decision about the job at hand. A handy price list allows the viewer to obtain a baseline estimate for the task with which San Luis Movers & Junk Removal can help, so that there are no big surprises in their future. In the section concerning dumpster rentals, the company provides information and suggestions to help with long-term or especially messy projects.
Family owned and operated, San Luis Movers & Junk Removal was born out of a strong sense of responsibility, necessity, and ingenuity. Started in 2010, professionalism and competitive pricing has allowed the moving and junk removal company to flourish and grow. Now, with the launch of their new website, the expert team of movers is even more prepared to handle whatever job their clients need them to accomplish.
"San Luis Movers & Junk Removal is fantastic!" reports D Baldwin, a happy customer of the company, "I have used this firm numerous times for moving and junk removal and have found them to be very reliable, careful and reasonably priced. I will definitely be calling Sandy again in the future."
To contact San Luis Movers & Junk Removal please call 805-440-0530. Contact the company through email at info@sanluismovers.com, or visit their website.