When we first started San Luis Junk Removal.  We wanted our message to be simple, "Affordable Junk Removal."  We set out with one mission.  We want to blow our competition out of the water.  We found a way to offer our customers greater value and lower prices.  First, we started with a larger truck.  Second, we made sure our prices were lower. Third, we offered our customers professional top notch service.  
Too Much Junk?
Don't let clutter keep you from enjoying your home.  If it's outside, inside, in the garage, or anywhere else, San Luis Junk Removal can get rid of it quickly.  Don't worry about bringing your junk outside or down to the curb, we'll go in and get it.  Whether you're moving, remodeling, or having appliances or furniture replaced, San Luis Junk Removal professional and friendly team can help you enjoy the space you're living in.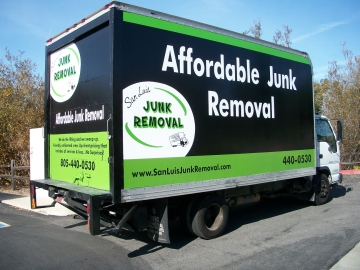 We offer our customers a larger truck than our competitors. Allowing us to take away more of your junk for less money.  We'll load this truck up top to bottom and front to back.  We won't quit until its full.  We can haul up to 4000 lbs of junk at once.  That's a lot of stuff!
We'll even sweep up afterwards!